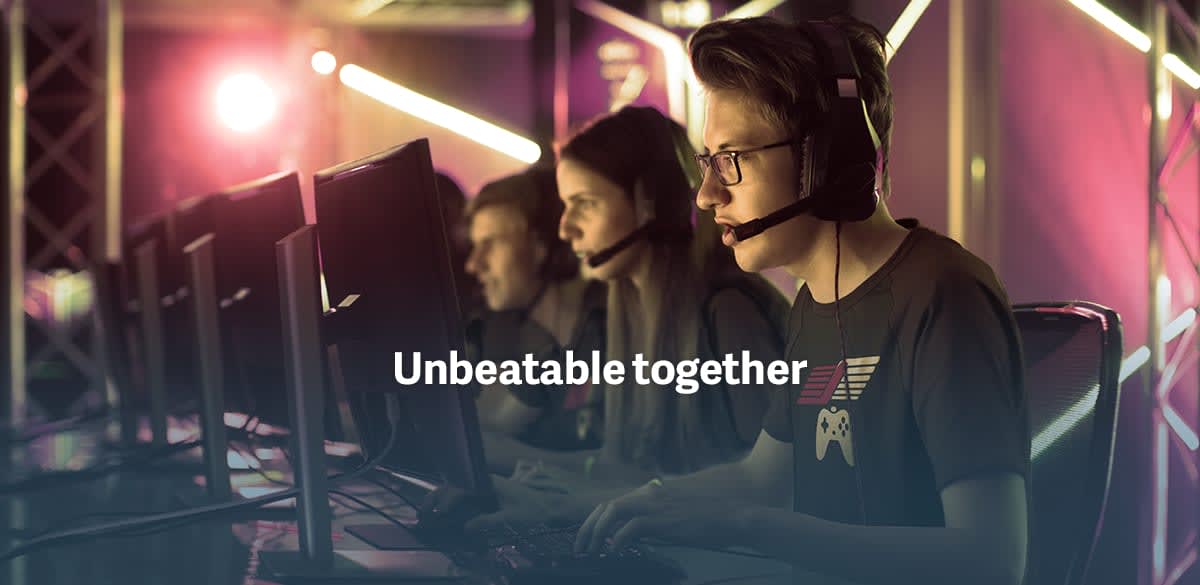 1-up with Gaming T-Shirts and Hoodies
Choose your gaming T-shirt, eSports Jersey or Hoodie
When traversing the hardest levels of the real world, gaming T-shirts are your ticket to some extra HP whilst preventing heaps of damage from your enemies. You'll take what the world throws at you in style when battling in gaming T-shirts whilst ruling your MMORPG or upping your KDR.
Professional gaming apparel like eSports jerseys are sure to cure any lagging problems in terms of good looks and gives you the edge over other players. Here's why:
Gaming T-shirts – discover a huge variety at TeamShirts to match your ideas of colours and quality. Want your group to have a uniform appearance with your logo, slogan and design? Personalise gaming T-shirts to your heart's content and let your enemies know who's boss.

Gaming hoodies – just like with our tees, you can personalise gaming hoodies for a cutting-edge team appearance. Pick a hoodie made from quality cotton and customise it with your logo, slogan and graphics.

eSports jerseys are the holy grail of real life buffs. Monk or conjurer – you'll want your personalised eSports jerseys to take the battle heat without looking like a noob.
How easy is it to create gaming T-shirts?
Easy. Like leading Pac-Man down a one-way street with cheats on:
1. Choose gamer shirts. From gaming T-shirts to gaming hoodies and breathable eSports jerseys, you'll be sure to find exactly the right gamer shirts for gaming battle day.
2. Choose slogan and design. Already chosen a name for your gaming clan? God mode! Now add your team slogan or any other text and browse our selection of free gaming designs to personalise your gaming gear.
3. Add names. Use the Names & Numbers feature in the Designer to personalise the gear for your gaming squad with names and designs for each member.
4. Order and have it delivered. Send it to an address anywhere in the real world.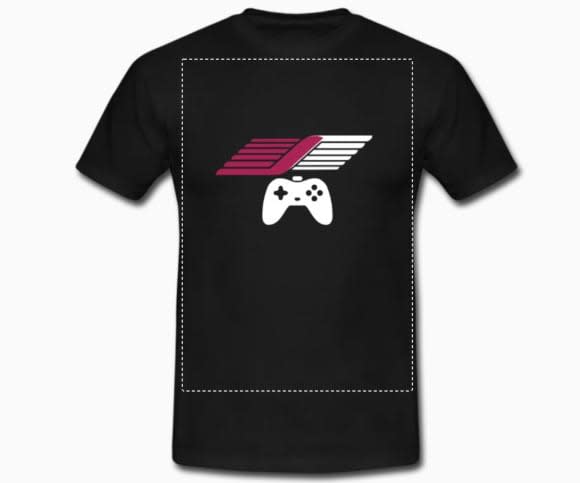 Be eye-catching with your team
Gaming T-shirts are your Checkpoint
Nobody likes a camper. Whether you're a newbie or experienced at farming gold and precious items, proper gaming T-shirts are the jackpot when it comes to setting foot in the world out there. Hunting for Easter Eggs is more fun when you wear gamer shirts or gaming hoodies from TeamShirts.
Here's your gaming tees manual:
1. Personalise your gaming gear in your comfort zone at home. No need to leave the safety shield of your screen.
2. Order a product sample to examine the specimens before ordering the batch here: Can I get a sample?
3. Get a quote!
4. Kick back and relax. Our carefree package includes help with the graphics, easy returns and express delivery. We want to be your game changer. Free graphics service starting from 5 items.
5. Attractive volume discounts. You can save up to 60% depending on the size of your order.
6. Any questions? Ask our super friendly customer service.
7. Game on!