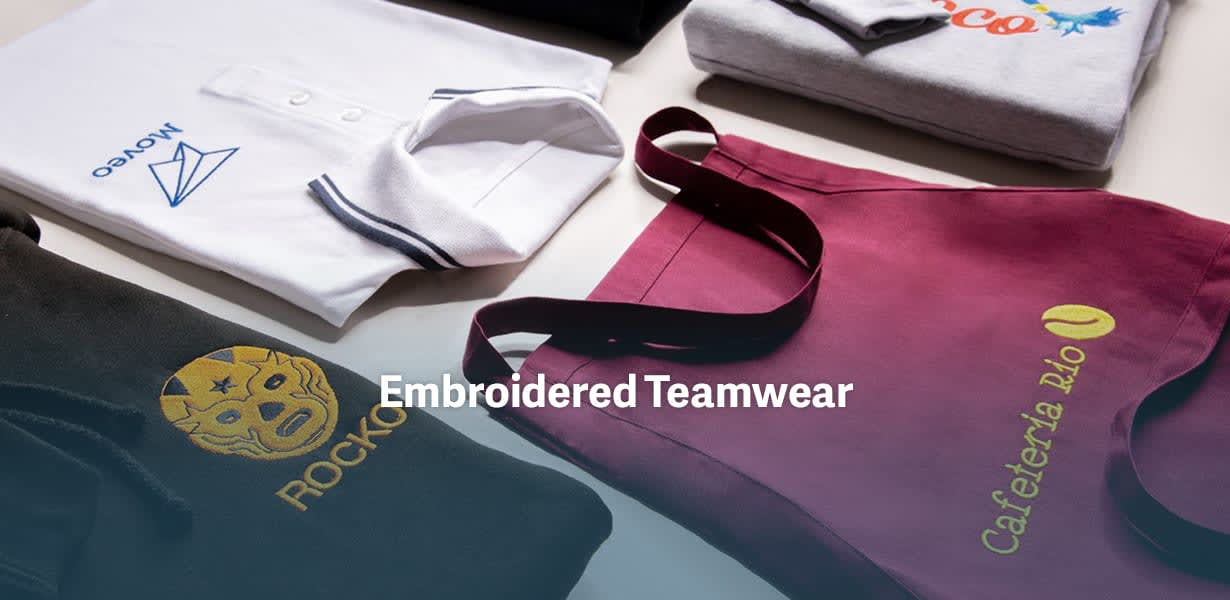 Embroidered clothing
Ultra-fine yarn - our embroidery range
Whether you want to order embroidered hoodies, baseball caps, or aprons: upload your design or create a motif with our graphics and templates, and add text in a variety of different fonts. You can add individual names or a team number to each product. So you can order embroidered products for the whole team in no time at all.
How to embroider clothes?
Just a few steps to create your embroidered team kit:
Click on "Create now" to start the designer programme.

Search for a suitable product and select a colour.

Upload your file and position it as desired.

If you want your product to be embroidered, simply select this with the controller (embroidery/print).

Do you also require names and numbers? No problem: with the team list, everything can be customised in 5 minutes.

Done. Your new clothing can go into production.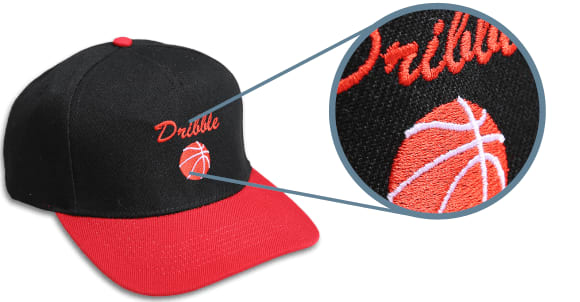 The advantages of TeamShirts embroidery
Whether you want to create embroidered baseball caps as a surprise for your team captain or need embroidered hoodies for your whole team - we are here to help. If you're not sure whether your motif is suitable for embroidering a cap or decorating a jumper, our graphics team will be happy to help you with advice and support.
After all, we want your new team clothing to be perfect! And the best thing? With orders above 6 units, you can enjoy a discount! Up to 60%. By the way, once an embroidery file has been created, you can always use it to reorder in the future.
The right kit for every team
Whether you require clothing for your final-year class, football team, or company: with embroidered textiles you can add a new dimension to your team clothing and guarantee a touch of timeless chic. The order process is very easy and begins with the selection of the right product. Currently, we offer embroidery for jumpers, caps, aprons, and polo shirts. Are you the captain of a sports team? Then order some cool embroidered snapback caps! Round off your look with embroidered hoodies and jumpers. Does your graduation class need something new this year, aside from the same boring shirts? Get going with embroidered caps or hoodies for the whole class.
If you're a restaurant manager you're sure to find what you're looking for too: order aprons decorated with your restaurant logo or create high-quality jumpers.
What we offer aside from embroidery
TeamShirts also offers many other types of printing, depending on what your team needs. We offer the option of printing shirts with flex/flock printing, digital direct printing, or laser printing. If you don't know which printing technique is suitable for your shirts, we will choose the best option for you. A short overview shows how your shirts can be printed:
Feeling a bit lost in this shirt storm?
Our customer service team can be reached on +44 20 39661820 or at info@teamshirts.co.uk.
Not sure which logo best suits your team?
We will be delighted to help you create your new team clothing.
Anything missing on this page? Send us an email with your suggestions for improvement!
We are constantly working to fine-tune our services for your team and everyone else out there.