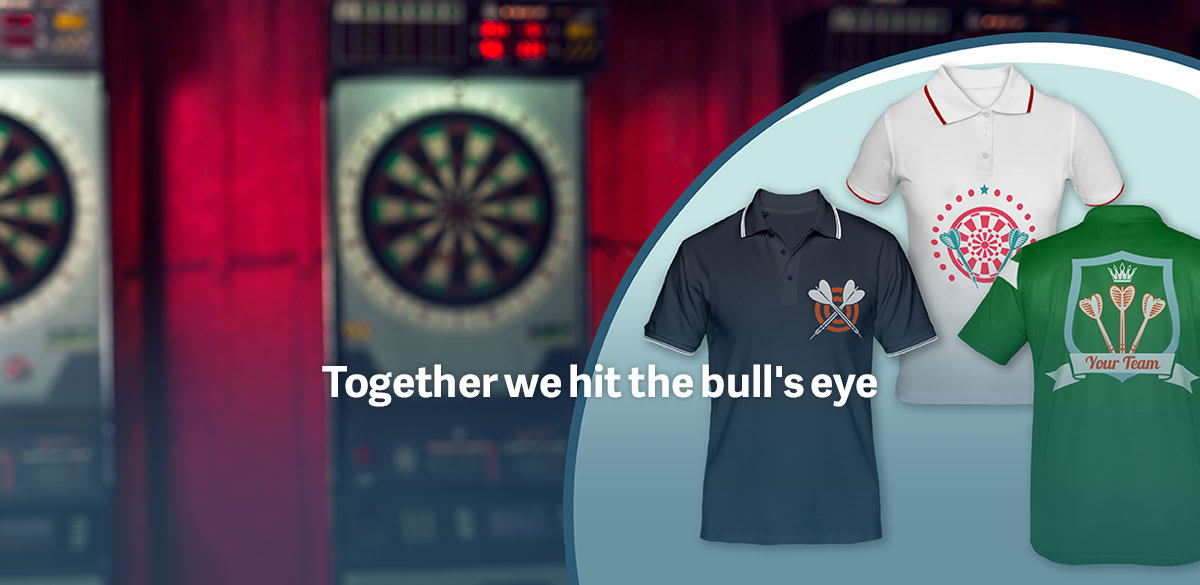 Create your own dart shirts and jerseys
Outfits for your darts team
Best price offer - Jako Team Jersey
Suited for all sports
Customised print
Also available as jersey kit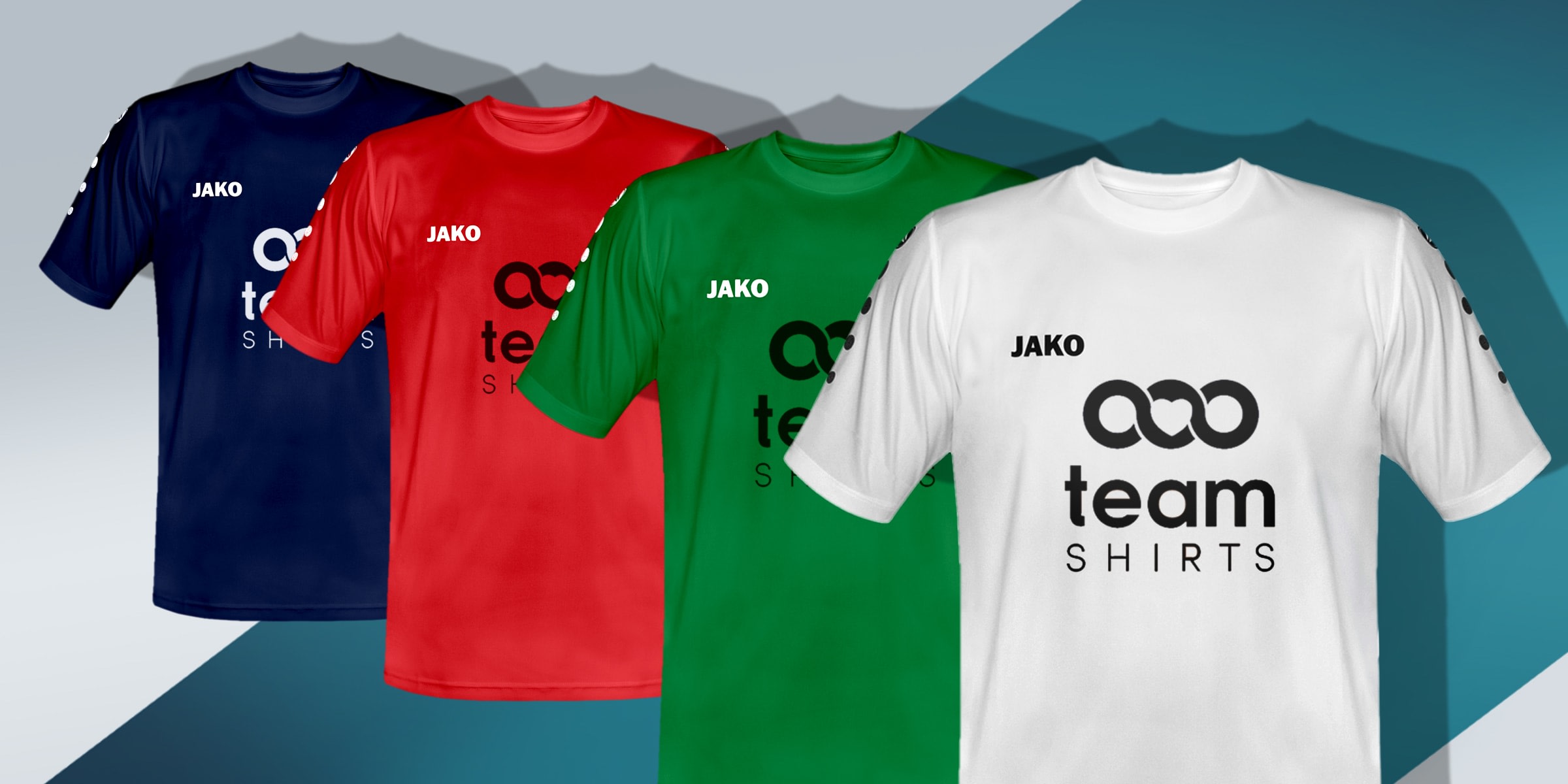 As good as a nine-dart finish: Create personalised dart shirts with TeamShirts
Do you stare fearlessly into the bullseye? Are the likes of Phil Taylor, Michael van Gerven and Peter Wright your sporting heroes? Then you have come to exactly the right place, because our darts jerseys, dart shirts and darts polo shirts will leave you feeling fashionably close to the world's best. We've put together the best darts shirts for your team: From polyester Strikers to retro-look cotton shirts, you'll find everything you need for an exciting darts game – checkout included. Go for polyester if you don't want your sweaty nerves to show. The fast-drying, breathable dart shirts look casual and survive wash after wash undamaged. Our slim-fitting shirts made of skin-friendly cotton radiate a cool retro charm and expertly set the stage for your carefully considered moves. Various colour combinations and a comprehensive selection of sizes round off our product range. If you're a dab hand at darts, we've got the right top for you.
How to design darts shirts for your team
Design your own dart shirts or polo shirts in 5 steps:
Click on the Create Now button to open the Design Tool.

Find a suitable darts shirt, jersey or polo shirt for you and your team and choose the colour.

Upload your design or simply use one of the ones from our gallery and change the colours of the design if desired.

Add a slogan or name.

Done. The appropriate printing method is set automatically.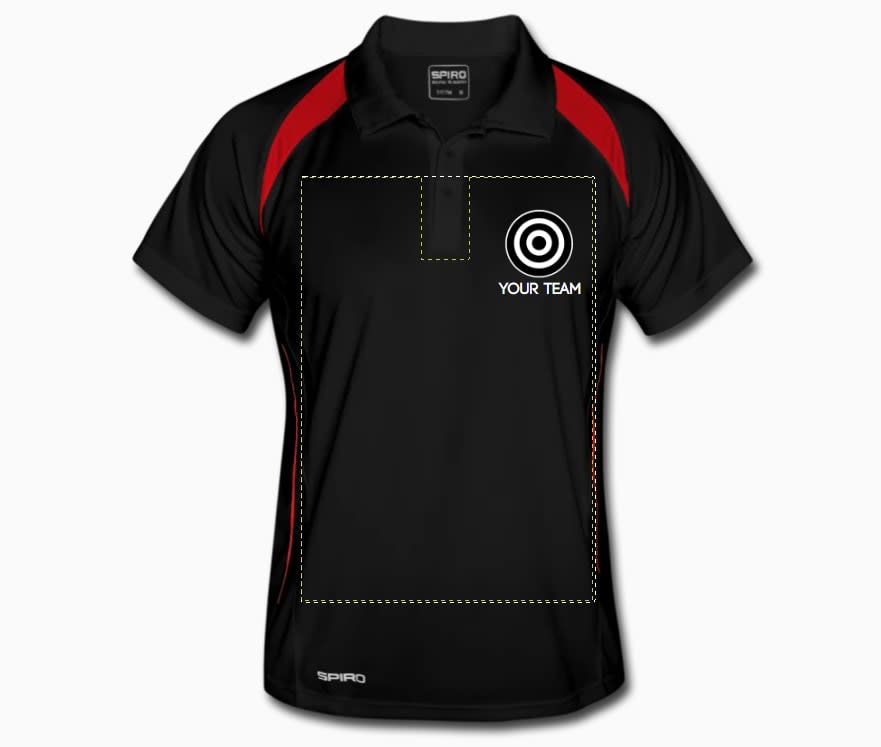 Be eye-catching with your team
Choose the right design for your group's darts shirts
Now you need the right darts design. We have made it incredibly easy for you to design a customised darts jersey for your team. Either use your own design, such as your team's logo or name, a photo of the team or a picture of your mascot, upload it via the TeamShirts design wizard and position it as desired on your darts polo shirts. If that sounds too complicated or you don't yet have a logo of your own, try browsing our gallery. There you'll find great darts designs that you can use for free. In addition to the designs, you can personalise every single darts jersey with names, lettering or numbers. You can print on the front and back as well as the sleeves. If you're good enough to attract advertisers, there's even room for sponsor logos.
We'll help you to design your darts shirts, jerseys or polo shirts
If designing your darts jersey sounds too complicated for you, our service team is on hand to provide assistance. Our professionals will be happy to check designs for printability, help you vectorize them and give you tips on how to position them. This is because our success depends on your success. We won't be satisfied until you are. To make sure it stays that way and you only have good things to say about us to your fellow darts enthusiasts, on request we'll even send you a sample of your darts shirt before you place your order – meaning you can be absolutely sure of the quality.
When designing your dart shirts, our printing methods always hit the bullseye
You can rely on our experience with printing darts shirts. We check your orders and choose the printing method so that you get the best result in top quality. Your darts shirts can be printed using flex printing, digital direct printing or screen printing. If you choose a polyester product when designing your darts shirts, we'll probably use flex printing. This technique involves cutting your design out of smooth, coloured sheets and then thermally pasting it onto the darts jersey. Flex printing is known for strong, glossy colours, high contrast and long durability, even after many washing machine cycles. In screen printing, the design is applied directly to the fabric. The slightly rubberised surface of the designs is a typical characteristic of this printing method. Whether colour gradients, special effects or photos, screen printing offers a high-quality finish that lasts for a long time. And then there is digital direct printing, where the printing ink is sprayed directly onto the darts shirt and then fixed. The design is very soft and is particularly comfortable to wear. Very large designs are especially suited to direct digital printing. Brilliant colours will last for a long time when hand-washed, while machine-washing will eventually result in a 'vintage look'. Digital direct printing is not suitable for printing photos or for use on breathable fabrics.
Checkout time: Get the most out of TeamShirts
When it comes to printing on darts shirts, our expertise in textile printing means that nobody can do a better job than us. We are with you every step of the way, from selecting your darts polo shirt, to positioning your design, all the way through to quality control – meaning you're sure to be 'tops' at your next tournament. This includes samples to try on, which we'll send you on request, our free delivery and a 30-day returns policy just in case your darts shirts don't fit, are damaged or have printing errors. As a bonus prize for bulk orders of 20, 50 or 100 darts shirts, you can receive juicy discounts of up to 60%. So it's worth ordering several darts jerseys for your teams, members or allied teams. You can choose between different payment methods such as PayPal, payment in advance, credit card, direct debit or purchase on account. That's an incredible checkout, don't you think?